Our Community Hub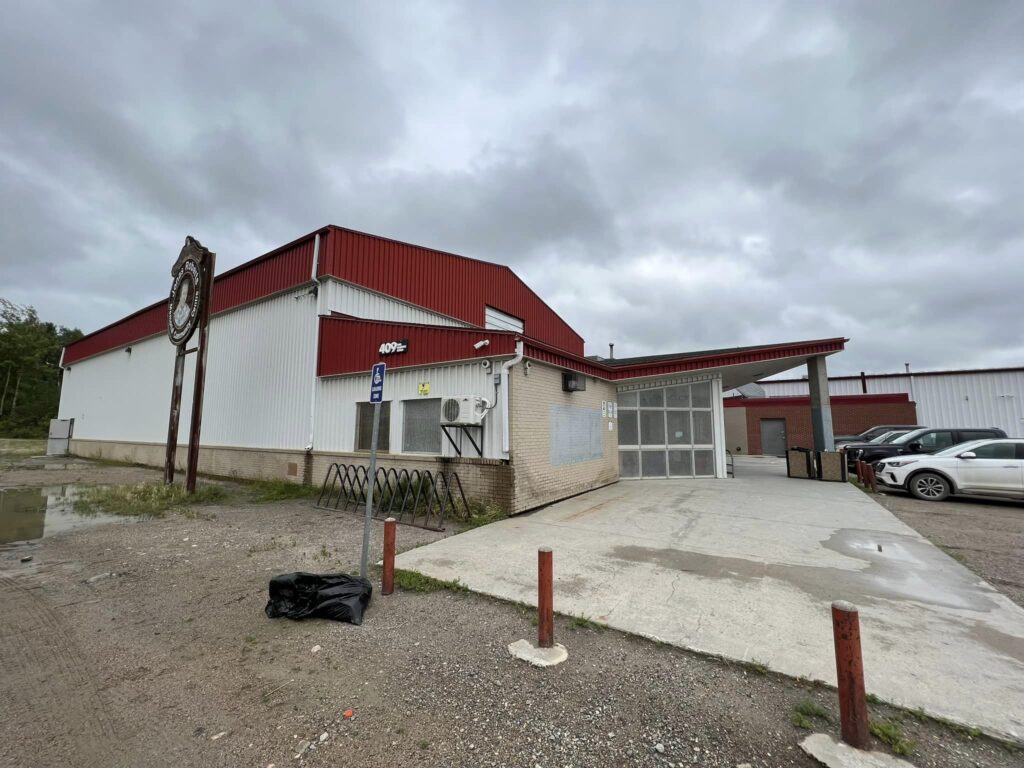 Picture of JRMCC from the west. Main entrance to the right.
JRMCC is where we host a wide variety of community sports and events:
Calender of Events 2023 August
Banquets
Sports tournaments
Dances
Wedding receptions
Performing arts
Events
Festivals
Staff meetings
Birthday parties
Team gatherings
Coaching clinics
Group workshops
Employee training sessions
First Aid Courses & CPR certifications
Etc.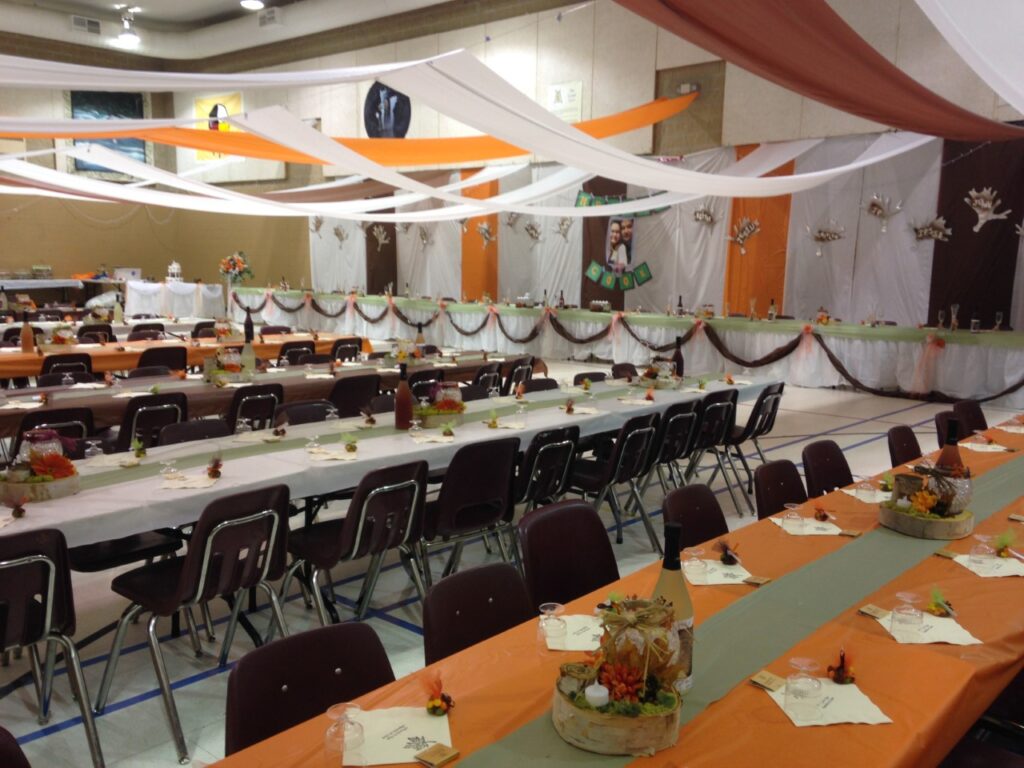 Wedding Reception in the hall/gymnasium
Career Fair in the arena
2019 Community Achievement Saskatchewan Parks and Recreation Association Award
Saskatchewan Parks and Recreation Association
Facility Operations Award went to Kevin Roberts of La Ronge, SK.
October 18, 2019 – Recreation professionals and volunteers received awards from the Saskatchewan Parks and Recreation Association (SPRA) at the Don Ross Center in North Battleford, from 6:00-9:00 p.m. on Friday October 18, 2019. These awards are delivered in recognition of their significant contributions to community parks and recreation.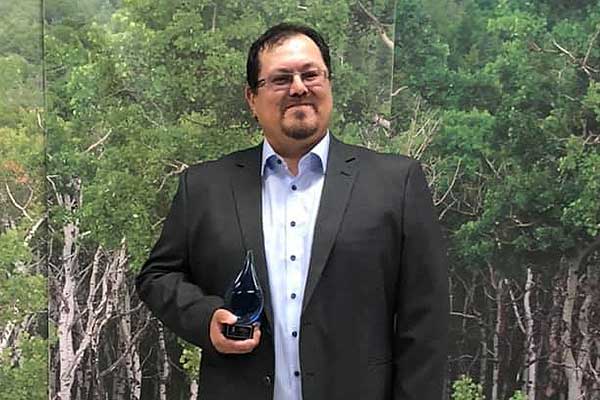 Eagle Feather News
First Nation sports facility receives 2019 Facility Operations Award
"We were pretty elated, but I didn't want to make this about myself. Awards are nice but really, at the end of the day, it's a reflection on your community and the leadership that makes things happen."

– Kevin Roberts –
We are proud to say that JRMCC is the first facility on a First Nation to receive the award
What Types of Programs and Events do we have ?
Year round
Fitness center
Monthly calendars are available on website Blog and Social Media pages (found on contact page)
Seasonal
Hockey practices, tournaments
Baseball practices & tournaments
Youth Summer Employment opportunities
Post-Secondary Student Summer Employment opportunities
How is the JRMCC Sports & Recreation Department Funded?
The LLRIB recreation organization is referred to as JRMCC Sports & Recreation Department and is a non-government funded program, which means it do not receive funds through the band's FTA (Financial Transfer Agreement). The department rather is funded 100% by band's portion of Casino Funds. The yearly budget approved is approximately $1.1 million.
Much of our success stems from how we operate. The political leadership puts forth and approves the financial resources to properly operate our recreation program through the allocation of a guaranteed, stand-alone annual budget. Our council does not micro-manage our operations either. They are very supportive in what we do but also maintain a hand-off approach. These areas are some of the keys in what makes us a leader in sports facilities, programs and operations.
The JRMCC Sports & Recreation Department Operates in four Key Areas:
Administration
Event Management
Program and Service Delivery
Fundraising/Marketing
Other Information About Our Facility
Who Do We Serve?
Today, JRMCC serves the local tri-community population of the town La Ronge (pop. 2,688), village Air Ronge (pop. 1,106) and the Lac La Ronge Indian Band (pop. 3074). Although, we are based on-reserve, our facility and programs are open to everyone.
When Did We Open?
The community center opened in the spring of 2001 just as the Lac La Ronge Indian Band (LLRIB) community of La Ronge was preparing to host Saskatchewan First Nations Summer Games later that summer. The facility was very much needed as the local population had grown to accommodate large events at the Kitsaki Hall on Morin's Hill. The first phase of the building included a community hall/gymnasium, fully functional kitchen and office space.
The Second Phase Of Development
The second phase of development of the facility occurred in 2005, when the construction of the arena was completed. This new modern arena consisted of an NHL-standard ice surface, change rooms with showers, referee / first aid room, skate sharpening room, seating and benches, ice plant, Zamboni room, lobby, concession area and office space. The total cost for the arena was $3.8 million.
Originally, the project included provisions for a running track and a mezzanine. However, these projects were eliminated from the final draft due to budget constraints. In anticipation of future funds, the applicable space was provided to accommodate future development of the Phase III Project which was done in 2013 and included the development of fitness and youth centers along with two ball diamonds and a mini soccer pitch.
Expansion & Renovation
In 2016 the $3.6 million JRMCC Expansion & Renovation Project was completed. It included an expansion to the fitness center, walking/jogging track, charter bus garage, boardroom, new seating, new score clock and a new generator. An important feature of the expansion was the installation of a new generator, which will power the building in the event of power outages, being that the facility serves as an emergency and evacuation staging center.
The Fitness Center
The JRMCC Fitness Center is a fully-equipped, modern gym which is very well used through paid monthly memberships. An electronic key-swipe system is not only is convenient but ensures a safe and hassle-free access to gym users. Over the last five years, we have invested approximately $150,000.00 in equipment to enhance and improve the workout experience of our users.
The expansion project was made possible through a bank loan with CIBC and is a 100% self-financed project at a cost of $3.6 million with annual payments and interest coming from the annual JRMCC departmental budget over a 15-year period.
Walking/Running Track
In the early fall of 2017, JRMCC made another investment in the facility though the installation of rubberized flooring on the walking/running track, a job completed by CMT Contracting.
18-Hole Mini-Golf Course
A couple months later, our 18-hole mini-golf course was completed to add to our family entertainment value. The project was a year earlier but due to time constraints, construction couldn't start until summer of 2017. This new feature cost approximately $200,000 to design and construct. Funding for the project came from the Canada 150 grant and construction was completed by both Precision Greens (out of Vancouver, BC) and Matt Klassen of High Mark Holdings, a local contracting company.
JRMCC Entertainment Park
In 2018, we opened the JRMCC Entertainment Park (consisting of Mini Golf, Golf Driving Cage, Batting Cage, Beach Volleyball Court and an Outdoor Canteen, "The Snack Shack"), a rare concept to be witnessed on a First Nations reserve. We hire additional part-time staff for this and we operate approximately from mid-May to mid-September.
Expansion Of The Fitness Center
In 2019, we expanded the Fitness Center to now include the space that was originally an office and youth center. This new space allows for private and small-class fitness classes and has been a great additional to the facility overall.
Employment
Right now, JRMCC employs 13 band members in the areas of management, programming, administration, arena and fitness center operations, janitorial and security.
Projects Are Managed By
Most projects were done through a project management team of elected band officials, senior managers, consultants and a project manager. Feasibility studies were done to provide some options as to what project management team were looking at terms of an expansion and renovation. In every instance, we have use the same engineering firm to develop expansion plans.
How Many Events On Average Does JRMCC Host During
A Calendar Year?
Throughout the year JRMCC hosts, organizes and coordinates numerous events. As well, numerous individuals and organizations also organize and coordinate events and activities within the facility throughout the past year. Excluding our regular evening programs and sports leagues that go on throughout the year, JRMCC averages 160 events during the calendar year (January to December). Our biggest event we host is the 11-day Lac La Ronge Winter Festival, which is one of the largest events in all of Saskatchewan capped off with our signature event, the King & Queen Trapper competitions, along with the annual Jimmy Roberts Memorial Hockey Tournament, Chrissy Charles Memorial Volleyball Tournament and Pageants.
2017 – 2018 Annual Report